Song recital
Dagmar Manzel -
Sehnsucht
Soprano Dagmar Manzel

Piano Frank Schulte

Contrabass Arnulf Ballhorn

Guitar Ralf Templin

Music Felix Kroll

Violine Daniela Braun

Chansons and songs by Friedrich Hollaender, Paul Abraham, Hanns Eisler and Helmut Oehring, among others
Texts by Bertolt Brecht, Ernst Jandl, Alfred Grünwald and Kurt Tucholsky, among others
Supported by

November 2021
Song recital Dagmar Manzel - Sehnsucht
Song subscription, Opera House Day
From Friday, 1 April, the mandatory wearing of masks will no longer be required for the public at all performances and events at the Opernhaus Zürich. You can find more information here.
Song recital Dagmar Manzel - Sehnsucht
Abstract
Song recital Dagmar Manzel - Sehnsucht
The actress Dagmar Manzel is known to a wide audience as the detective in the Franken Tatort, but just as legendary are her appearances at the Komische Oper, where she could be seen in many operetta productions by Barrie Kosky: as the ravishing Cleopatra in Oscar Straus' Die Perlen der Cleopatra or in Paul Abraham's revue Ball im Savoy. Now she is coming to Zurich with her five-piece band and has some trouvailles from chanson and operetta in her luggage: well-known and unknown songs by Friedrich Hollaender, Paul Abraham and Hanns Eisler, among others, with lyrics by Bertolt Brecht, Ernst Jandl, Alfred Grünwald or Kurt Tucholsky. Quiet humor, comedy and melancholy soar over the evening, to which Dagmar Manzel gives the title Sehnsucht (Longing) - because ultimately all the pieces are about longing: longing for a little private happiness, for better times or for forgetting.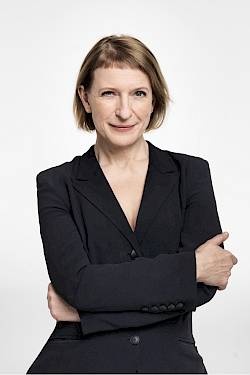 Dagmar Manzel,
Dagmar Manzel
Dagmar Manzel studierte Schauspiel an der Hochschule für Schauspielkunst Ernst Busch in Berlin. Feste Engagements führten sie ans Staatsschauspiel Dresden und ans Deutsche Theater Berlin, wo sie mit Regisseuren wie Thomas Langhoff, Heiner Müller und Frank Castorf zusammenarbeitete. Sie gewann zahlreiche Preise, wie etwa den Goldenen Vorhang (Publikumspreis des Berliner Theaterclubs) für Eine Frau, die weiss, was sie will! und für Die Perlen der Cleopatra an der Komischen Oper Berlin sowie für Glückliche Tage am Deutschen Theater Berlin, den Adolf-Grimme-Preis, den Bayerischen Fernsehpreis, den Preis als Schauspielerin des Jahres 2002 der Fachzeitschrift «Theater heute», den Deutschen Fernsehpreis, den Deutschen Filmpreis, den Faust 2014 und den Deutschen Hörbuchpreis 2014. 2002 übernahm sie die Titelrolle in Thomas Schulte-Michels Inszenierung von Jacques Offenbachs Operette Die Grossherzogin von Gerolstein am Deutschen Theater Berlin, 2008 spielte sie die Hauptrolle in Schulte-Michels' Inszenierung von Offenbachs Operette La Périchole am Berliner Ensemble. An der Komischen Oper war sie in Sweeney Todd (Mrs. Lovett), Im Weissen Rössel, Sieben Songs/Die sieben Todsünden, MENSCHENsKIND, Kiss me, Kate, Anatevka und Ball im Savoy zu erleben. Seit 2015 spielt sie im Franken-Tatort die Hauptkommissarin Paula Ringelhahn. Dagmar Manzel hat zudem zahlreiche Hörspiele eingesprochen. 2017 erschien ihr Buch Menschenskind. Eine Autobiographie in Gesprächen mit Knut Elstermann beim Aufbau Verlag.