Mozart Schostakowitsch
Wolfgang Amadeus Mozart
Ouverture zur Oper «Die Zauberflöte»
Krzysztof Penderecki
«Concerto doppio» für Violine, Violoncello und Orchester
Dmitri Schostakowitsch
Sinfonie Nr. 10
Duration approx. 1 H. 45 Min. incl. intermission after approx. 35 Min. Introduction 45 min before the performance.

September 2021
Mozart Schostakowitsch
1. Philharmonic Concert, Concert subscription, Opera House Day
From Friday, 1 April, the mandatory wearing of masks will no longer be required for the public at all performances and events at the Opernhaus Zürich. You can find more information here.
Mozart Schostakowitsch
Abstract
Mozart Schostakowitsch
In the first concert of the new season, Krzysztof Urbański makes his debut on the podium of the Philharmonia Zurich. With youthful charisma and dynamic performances, the Polish conductor has attracted attention from some of the world's most important orchestras over the past decade: when he first led the Berliner Philharmoniker at the age of 31, he was already Music Director of the Indianapolis Symphony Orchestra. Since 2015, he has been principal guest conductor of the NDR Elbphilharmonie Orchestra, with whom he has recorded 20th-century masterpieces such as Stravinsky's Sacre du printemps and Shostakovich's 5th Symphony, among others. He now performs Shostakovich's 10th Symphony, written in 1953, at the Opernhaus Zürich. Together with Bartlomiej Niziol and Lev Sivkov, concertmaster and principal cellist of the Philharmonia Zurich, he will also perform a double concerto by the Polish composer Krzysztof Penderecki, who died in 2020. The Concerto doppio, which premiered in Vienna in 2012, was written during Penderecki's late creative phase, when the former avant-gardist was interested in classical forms and composed in a style that made him popular beyond the confines of new music connoisseurs.
Krzysztof Urbański, Musical director
Krzysztof Urbański
Krzysztof Urbański is Music Director of the Indianapolis Symphony Orchestra and Principal Guest Conductor of the NDR Elbphilharmonie Orchestra. In addition, he is an internationally sought-after guest conductor performing with orchestras such as the Munich Philharmonic, the Orchestra dell'Academia Nazionale di Santa Cecilia, the Philharmonia Orchestra, the Tonhalle Orchestra Zurich, the Vienna Symphony, the Rotterdam Philharmonic Orchestra, the Orchestre Philharmonique de Radio France, the Chicago Symphony Orchestra, the San Francisco Symphony Orchestra , the Los Angeles Philharmonic and the National Symphony Orchestra Washington. More recently, he made his debuts with the Gewandhausorchester Leipzig, the Orchestre de Paris and the Chamber Orchestra of Europe. From 2010 to 2017, he was principal conductor of the Trondheim Symphony Orchestra, which then named him honorary conductor. He also served as principal guest conductor of the Tokyo Symphony Orchestra for four seasons starting in 2012. In June 2015, he received the prestigious Leonard Bernstein Award from the Schleswig-Holstein Music Festival, the first conductor ever to do so. Urbański's collaboration with the NDR Elbphilharmonie Orchester is now documented on seven CDs with works by Lutosławski, Dvořák, Chopin, Rachmaninoff, Stravinsky, Shostakovich and Strauss. In addition, Urbański's discography includes a recording of Martinů's Cello Concerto No. 1 with the Berlin Philharmonic and Sol Gabetta.
Mozart Schostakowitsch
26 Sep 2021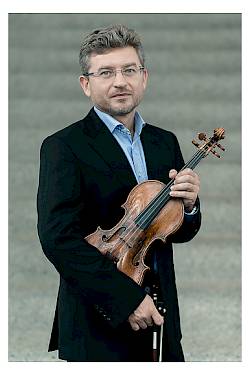 Bartlomiej Niziol, Violine
Bartlomiej Niziol
Bartlomiej Niziol, geboren in Stettin, studierte bei Jadwiga Kaliszewska in Poznan und Pierre Amoyal in Lausanne. 1991 gewann er den Henryk-Wieniawski-Wettbewerb und den Violinwettbewerb in Adelaide. In den Folgejahren wurde er beim Internationalen Musikwettbewerb in Pretoria, beim Eurovision­-Wettbewerb in Brüssel sowie beim «Marguerite Long-Jacques Thibaud»-Wettbewerb in Paris mit dem ersten Preis ausgezeichnet. Auftritte als Solist folgten u.a. mit dem English Chamber Orchestra, dem Orchestre Philharmonique de Radio France, dem NDR-Sinfonieorchester, dem New Japan Philharmonic Orchestra, der Sinfonia Varsovia sowie dem Tonhalle-Orchester Zürich und der Philharmonia Zürich unter Dirigenten wie Yehudi Menuhin, David Zinman, Marek Janowski, Jan Krenz, Heinrich Schiff, Jacek Kasprzyk, Krzysztof Penderecki und Fabio Luisi. Konzerttourneen führten ihn durch Europa, Asien, Afrika und Südamerika. 2011 debütierte er mit Martha Argerich am Musikfestival «Chopin and his Europe» in Warschau. Niziols Aufnahmen von Wieniawski, Bacewicz und den Sechs Solo-Sonaten Ysaÿes wurden mit dem «Fryderyk Preis» der polnischen Musikkritik ausgezeichnet. 2015 erhielt er den Echo Klassik-Preis in der Kategorie Kammermusik im 19. Jahrhundert.
Niziol ist Dozent an der Hochschule der Künste in Bern und Jurymitglied des Henryk Wieniawski Violinwettbewerbs sowie beim internationalen Violinwettbewerb «Premio Paganini» in Genua. Im Rahmen seines Projektes «Festival & Master­class» in Polen engagiert er sich für die Förderung junger Talente.
Bartlomiej Niziol ist seit 2003 Erster Konzertmeister der Philharmonia Zürich. Er spielt auf einer Giuseppe Guarnerius del Gesù aus dem Jahre 1727.
Mozart Schostakowitsch
26 Sep 2021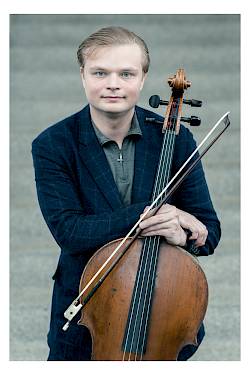 Lev Sivkov, Violoncello
Lev Sivkov
Lev Sivkov, 1990 in Russland geboren, begann seine musikalische Ausbildung in der frühen Kindheit mit seinen Eltern. Im Alter von fünf Jahren besuchte er die Musikschule in Nowosibirsk. Von 2006 bis 2009 studierte er an der Musikakademie Basel bei Ivan Monighetti. 2009-2013 setzte er sein Studium fort an der Hochschule für Musik und Darstellende Kunst in Stuttgart bei Conradin Brotbek. Im Sommer 2010 hat er an der ''Summer Music Academy'' bei Janos Starker, Indiana University, USA, teilgenommen.
Er studiert zurzeit bei Jean-Guihen Queyras an der Musikhochschule in Freiburg.
2016 wirkte er al Solocellist der Dänischen Königlichen Oper in Kopenhagen.
Seit Saison 2017 ist Lev Solocellist der Philharmonia Zürich.
Lev Sivkov ist Preisträger zahlreicher Wettbewerbe: Erste Preise gewann er an der "W. Naumburg International Music Competition 2015" in New York, am "Concours International des Cordes 2015" in Gerardmer, Frankreich, am "Julio Cardona International String Instruments Competition 2015" in Covilha, Portugal (auch zwei Publikumspreise), am "Cello Domnick Preis 2009" in Stuttgart und an der "International Valery Gavrilin International Competition 2005" in Vologda, Russland.
Zahlreich sind auch seine zweiten Preise an Wettbewerben in Russland, Tschechien, Polen, Schweden, Portugal und Südkorea.
Lev Sivkov spielt ein Cello von Vincenzo Postiglione (1894) gestiftet von der Landessammlung für Streichinstrumente Baden Württemberg.
Così fan tutte
14, 19, 27 Nov; 02, 07, 11 Dec 2021
Mozart Schostakowitsch
26 Sep 2021